Photographer Resume Template
Job opportunities to become a photographer are very wide, especially when the creative industry is growing rapidly as it is today. When you decide to become a photographer, many things need to be considered. For example, having the best qualifications shows that you are worthy of being hired. The first step to working as a photographer that you can take is to create a quality resume. Whatever type of photography you're applying for, be sure to use our best photographer resume template here.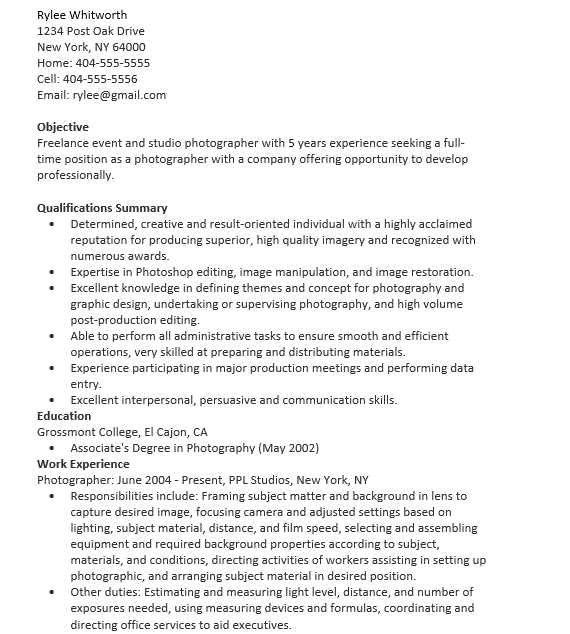 Usually, a photographer has that creative ability by learning independently, so don't hesitate when it comes to writing a self-taught photographer resume. In essence, you must still include some important elements such as your experience and photography skills
Photographer Resume Sample
We have a practice sample resume for a photographer that can be your inspiration here:
Larry Anderson
Personal Info
Phone: (333)-223-332-222
Email: andersonlarry@gmail.com
Summary
Bachelor's degree of Art (3.7/4.0) who has experienced as a photographer for 5+ years and has high creativity. To obtain a position as a photographer at Dany Fashion Company by bringing outstanding technical skills, being able to take unique and high-quality portraits with creativity in mind.
Experience
1) Self-employed
Freelance Photographer
2014-2016
Taking high-quality photos for customers, including school children, couples, and pets.
Using digital cameras and various other elements to produce quality portraits.
Building good relationships with customers.
Taking photos of weddings, birthdays, and other relevant events.
2) D&C Organization
Assistant Photographer
2017-2020
Finding the best shooting locations outside the studio.
Setting up the right shooting studio.
Meeting shooting clients and listening to their wishes.
Managing to produce dozens of poster-size prints for local malls.
Education
BA in Photography
Oregon University
2010-2014
GPA: 3.7
Relevant Coursework: Photography Techniques, Business, Communication and Journalism, Lighting Techniques, Color Photography, Digital Photography.
Membership: Members of the "Lion Photographer" Community, Spanish Club
Certification
Certified Drone Photographer, PPA.
Key Skills
Communication
Detail-oriented
Self-motivated
Collaborations
Fashion photography
Editorial photography
Adobe photoshop
Adobe Lightroom
Awards
1st winner of the National Photography Competition "Youth Pict", 2015
An inspirational young photographer in the version of Timeline Magazine, 2019
Languages
How To Write A Photographer Resume?
There are some elements that you must pay attention to. By knowing the elements well, it's possible to build a great resume in the field of photography. Here are some of the tips that can be your inspiration:
Show Your Creative Side
The first tip that you can apply is to show your creative side. As a photographer, make sure that you are on the creative side. By choosing a template with an attractive design, recruiters will know that you have a good view of visual things.
Highlight Your Experience
Make sure that you write down the experience well. With relevant and clear experience, you can give recruiters a clear picture of your career and achievements.
Use a Resume Summary
What you shouldn't miss when writing a resume is writing down a career objective. The statement should briefly summarize your qualifications and experience. So that the recruiter knows that you are the right candidate.
How To Write A Good Resume Objective?
Writing a resume objective can be both difficult and easy. In the summary, your resume objective should contain several things such as skills, experience, how your past career has been, and how your future career plans are.
You can show the company that you have a great passion for the field you are applying for and want to contribute to the maximum.
What Skills Are Needed By A Photographer?
As a photographer, you must have some important qualifications such as:
Creativity skills
Digital imaging
Adobe photoshop
Creativity skills
Communication skills
Canva
Detail-oriented
Self-motivated
Collaboration
Nature photography
Adaptability
Fashion photography
Editorial photography
Physically fit
How To Write A Freelance Photographer?
Highlight your qualifications
Add your relevant experiences
State the job description
Write down your education
Add some sections like your language ability, training, membership, and the others
Kind of Photographer Resume Template
To make it easier, you can use our available resume templates below:
Professional Photographer Resume
As a professional photographer, you need to start putting together a great resume. A resume is not perfect without paying attention to great templates and quality designs.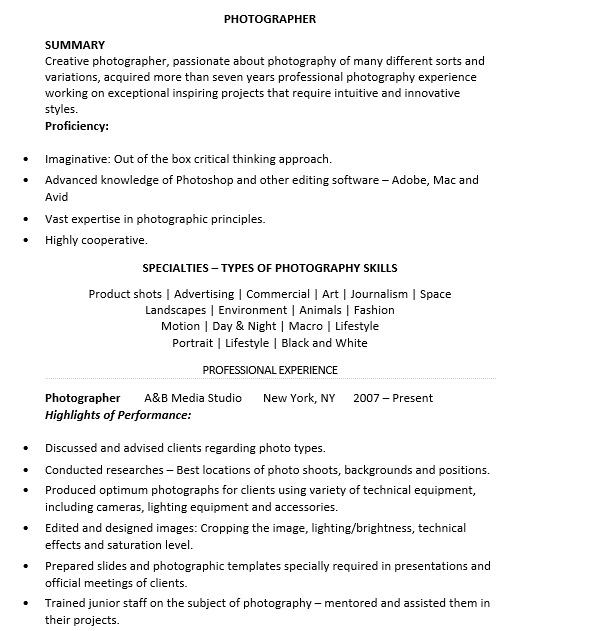 Editable Photographer Resume
With easy-to-edit templates, it's easier for you to create a resume. Consider a few good things for building a relevant resume, be sure to include your skills and experience.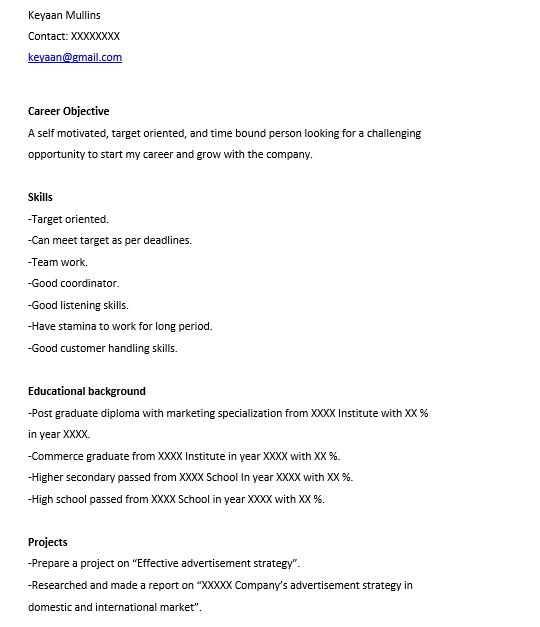 Simple Photographer Resume
A simple resume will be easy to customize. It looks great too with a few things that make it look attractive. Make sure you use this resume for classy results.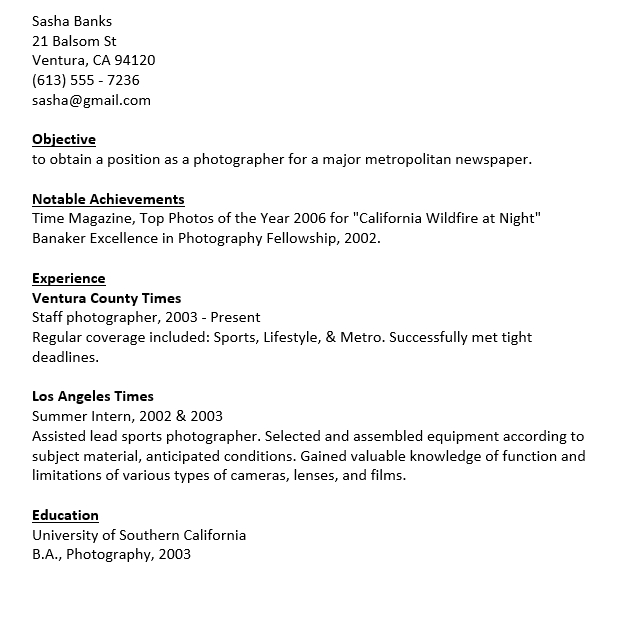 Wedding Photographer Resume
Would you like to apply for a position as a wedding photographer? It must be a lot of fun. Make sure you have the appropriate qualifications and high creativity to be able to use this template.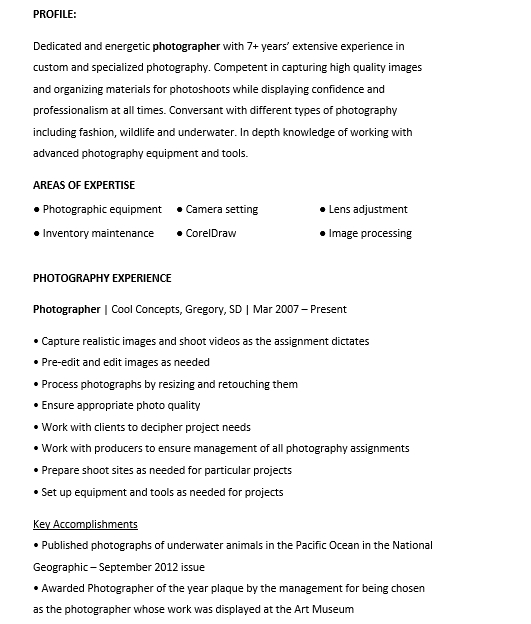 Senior Photographer Resume Template
There are several things that you need to consider well in a resume, but most importantly you have to make it as good as possible. Not only in terms of design but make sure that the contents of the resume are as they should be.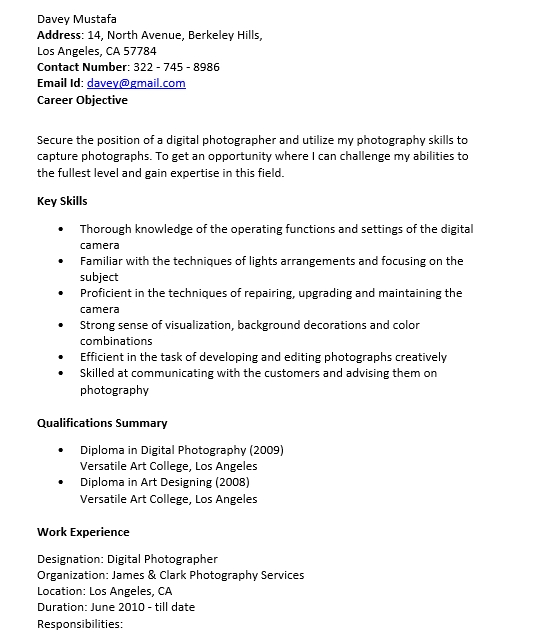 Creative Photographer Resume
Being a creative photographer would be awesome. Start a career by writing a resume using this format and then show that you are qualified.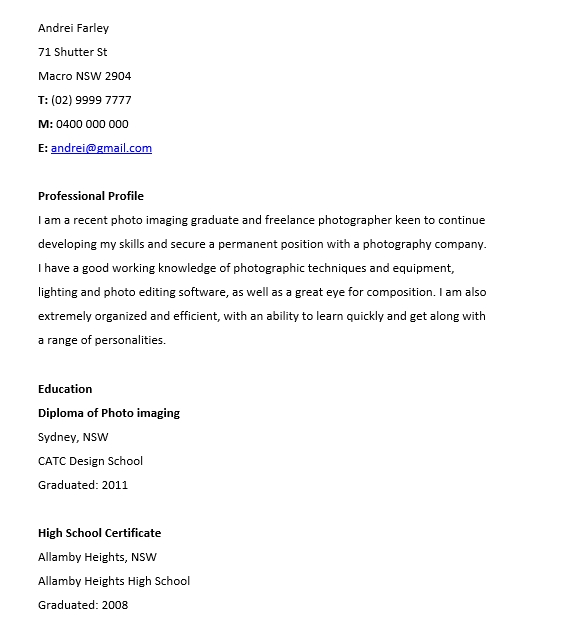 Freelance Photographer Resume
If you want to apply for a position as a freelance photographer, you can use this format. Some of the things you need to consider are incorporating the best experience and skills.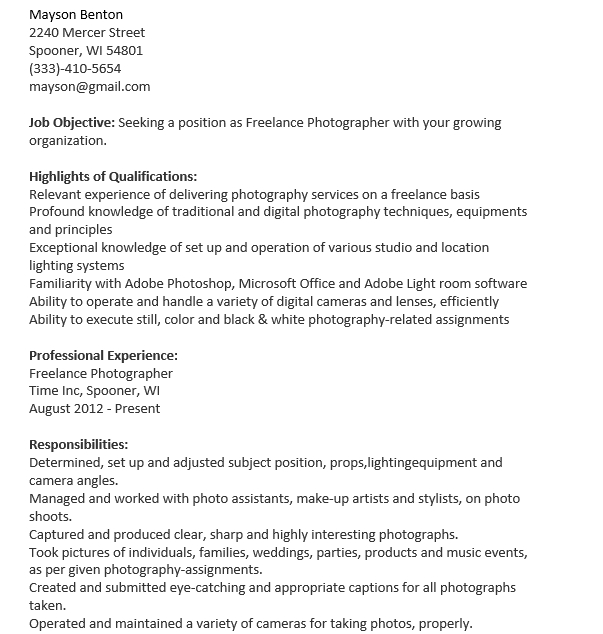 Photographer Resume For Fresher
As a beginner, you still have the opportunity to be recruited as a photographer as long as you have the appropriate qualifications. So make sure you choose the right resume template.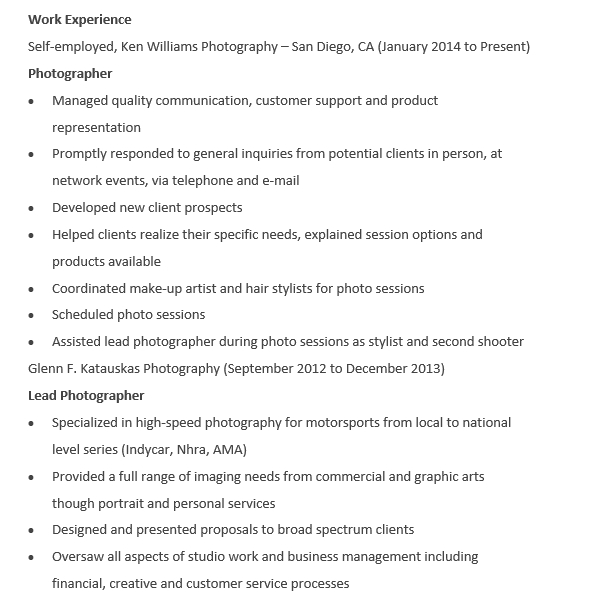 Traveling Photographer Resume Template
This template comes with a precise and cool design. You only need to change the format slightly to produce a resume that is both classy and perfect.
Assistant Photographer Resume
Becoming a photographer's assistant is a great first step as a professional photographer. To make your dreams come true, use this template and show that you deserve to be hired.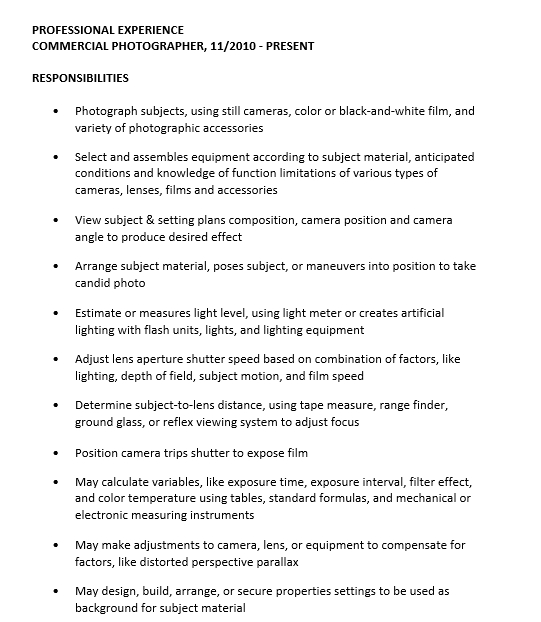 Similar Posts: