Phlebotomy Resume
Some people might not be familiar with the term phlebotomy. It is a professional who draws blood from the vein of the patients. This procedure is done to collect the medical conditions of the patients. Not everyone can apply for this job, as it requires specific skills and qualifications to do that.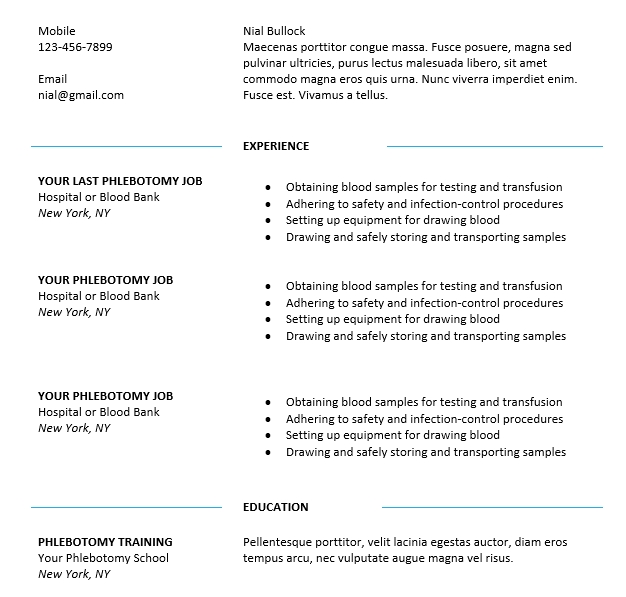 They work in a wide range of medical facilities such as hospitals, clinics, laboratories, and many more. If you are interested in pursuing a career in this field, you need some preparations including the phlebotomy resume. Here, we have guidelines on how to create a good resume or choose the best resume template.
Phlebotomy Resume Sample for New Grads
Phlebotomy can be a good career choice for newly-graduated students. Yet, they have to know how to create a good resume to make them look more professional. Here is the sample that can be as a reference.
Mark Richardson
Personal Info
Phone: (555) 123-123-123
Email: markrichardson@email.com
Summary
Detailed-oriented, hardworking, and excellent- communication individual is seeking an opportunity to deliver high-quality patient care. Earned an experience of volunteer work as a phlebotomist at ABC Clinic and Health Blood Donation event. Have dealt with +150 patients in drawing blood occasions.
Experience
Volunteer Work as Phlebotomist at ABC Clinic
2020
Checking patients' medical history before drawing blood treatment
Preparing the needles and proper equipment
Drawing patients' blood samples
Labeling vials with patients' data
Collecting the patients' blood samples to the laboratories
Checking patients' condition after the treatment
Volunteer Work as Phlebotomist at Health Blood Donation Event
2019
Welcoming blood donators in a friendly manner
Checking the donator's condition and health before drawing the blood
Giving relevant information about the donation like the benefits and side effects of blood donation
Collecting blood from the donators
Label vials with types of blood
Education 
Phlebotomy Technician Certificate Program
2018 – 2019
GPA: 3.80
Relevant Coursework: Medical Terminology, Anatomy and Physiology, Biology
Graduation: 2019
Membership: Phlebotomy Students Alumni Association
Key Skills
Excellent communication skills
Strong medical terminology
Blood sample collection
Medical anatomy skill
Medical record-keeping
Achievements
Best GPA of the Training Program, 2019
Language
How to Write a Phlebotomy Resume
In producing a good phlebotomy resume, you need to know some tips below on how to write it.
Choose the most appropriate resume format for you. It doesn't have to be fancy but it needs to be able to highlight the most important information.
Highlight your phlebotomist skills. The skills listed have to be relevant to the job you are going to do.
Create a powerful career summary. If you earn any experience, include it as well as the skills and qualifications inside the career summary.
Choose relevant keywords. Employers usually do the applicants selected based on the keywords related to the job being applied, so make sure you include some phlebotomy-related keywords like diagnostic and vein.
What to Write on Phlebotomy Resume?
Knowing the tips of how to write a phlebotomy resume isn't enough if you don't know what information to write. Here are things you have to include inside your resume.
Personal data. If the employers decide to consider your application, they need to contact you and that's why your data such as full name, email address, and phone number have to be the first thing on your resume.
Professional summary. It sums up your career in brief. Make sure to make a powerful summary without exaggerating.
Professional experience. This section is what employer usually looks at first, to see how capable you are in doing your job.
Strengths or skills. This section is also crucial to promote yourself to the employers as it usually becomes the main consideration of your acceptance.
Educational background. Even though it isn't related to your job, keep writing that.
Additional information such as training, an internship, volunteer work, a certificate. This can be good boost-up information if you don't have work experience.
The Main Responsibilities of Phlebotomy
Before sending a phlebotomy resume, one needs to know the main responsibility of the job. Phlebotomy handles patients' care in extracting blood from the venipuncture or fingerstick. Not only that, phlebotomy is responsible for preparing the needles and other equipment for drawing blood treatment. They also keep the patients' records and history before and after the treatment.
What Makes a Good Phlebotomy?
The main point of a resume is to highlight your strengths and it's usually done by writing skills. Yet, you don't need to write everything and focus on the relevant skills of phlebotomy, like the skills below.
Detailed-oriented
Excellent communication
Physical dexterity
Compassion
Hand-eye coordination
Multitasking
Kinds of Phlebotomy Resumes
There are several phlebotomies resume templates that you can use to gain a professional resume. It has many advantages and opportunities to show your strengths.
Phlebotomy Supervisor Resume Template
This resume template is designed for someone who has been around the industry for a while. If you want to pursue the next career level as a phlebotomy supervisor, this template can be a huge help.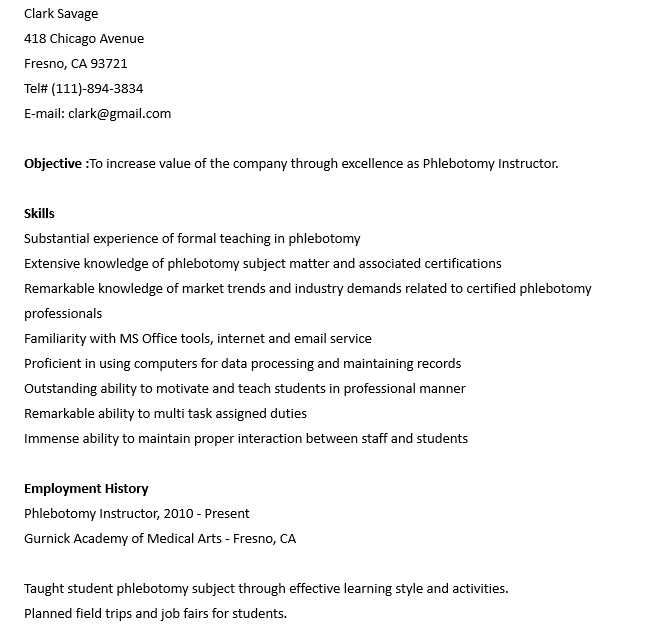 Entry-Level Phlebotomy Resume Template
This resume works best for those who want to apply for an entry-level position in phlebotomy. The template highlights the skills and produces a strong career objective.
Sample Phlebotomy Resume Template
This template applies a basic formatting style without looking mediocre. It provides detailed information in a well-structured resume.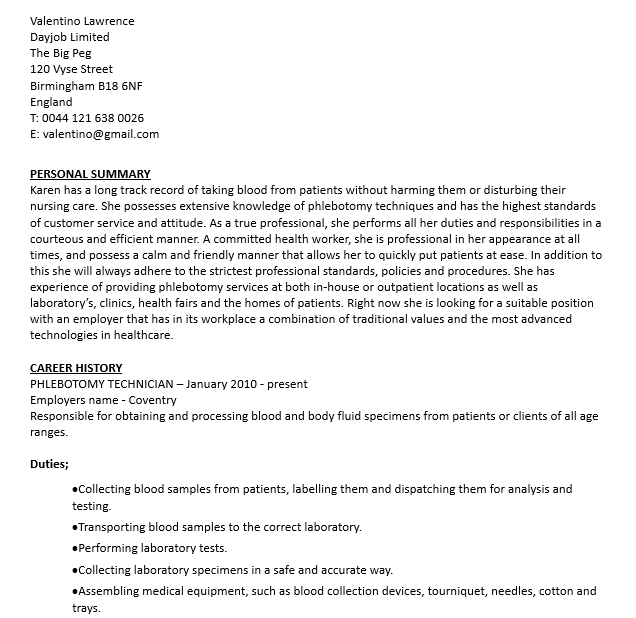 Phlebotomy Instructor Resume Template
Phlebotomy instructor needs to use this template for passing the first resume screening. It produces a good summary of your professional experience and showcases your skills professionally.
Phlebotomy Technician Resume Template
Use this template if you are interested in being a phlebotomy technician. It is written in Ms. Word file format so you can download and edit it quickly.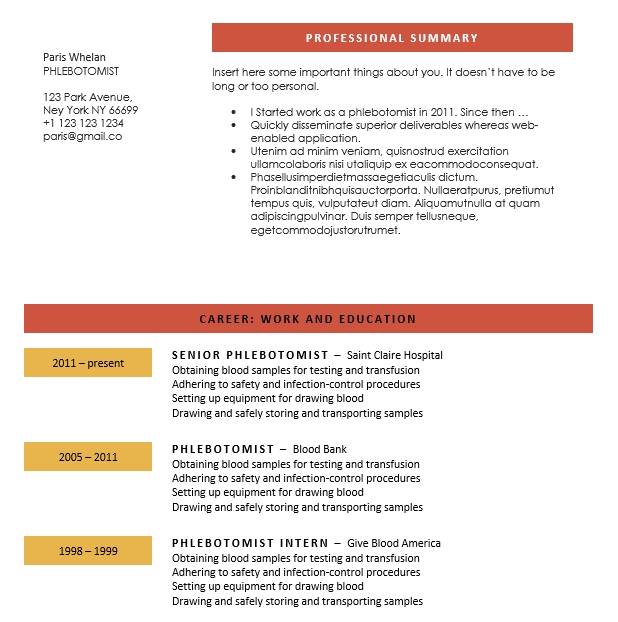 Modern Phlebotomy in Blue Resume Template
Having blue nuance, this resume template provides a modern vibe for the first look. It can be applied for an entry-level or a supervisor position. You can edit the information based on your information.
Medical Assistant Phlebotomist Resume
This template produces a strong professional summary that will showcase your ability in the best way to the employer.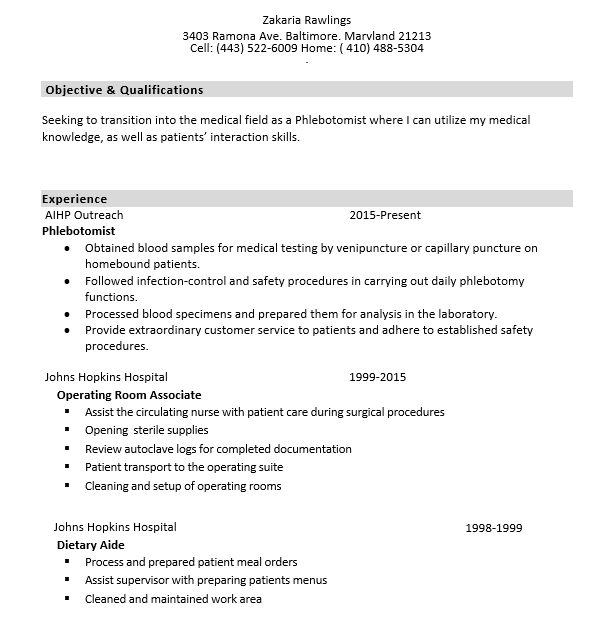 Phlebotomist Resume Template
This template is applicable for experienced and inexperienced applicants who want to start a career as a phlebotomist. Each section provides complete information that you can edit easily.
Float Phlebotomist Resume Template
This resume template is designed for float phlebotomists that work in hospitals, clinics, or any health care facilities. Use this template and you won't regret finding this effective resume template.
Phlebotomist Resume Examples
If you avoid having too much design on your resume, this phlebotomist resume template is the best alternative. Using minimalist design and formal formatting style, this template gives an elegant finish to your resume.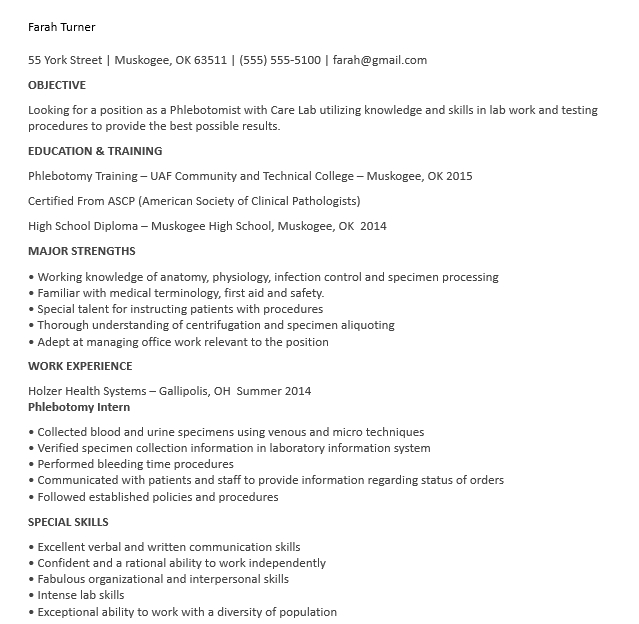 Similar Posts: