Pharmacist Resume
One needs to have certain education requirements and qualifications to be a pharmacist. It is crucial as it will be related to the prescription of the medication for patients. The pharmacist can work at hospitals, clinics, health companies, or even pharmacies. Thus, the career chance is bigger. If you want to pursue a career as a pharmacist, it's better to prepare all the requirements beforehand such as keeping the pharmacist license or writing a good pharmacist resume.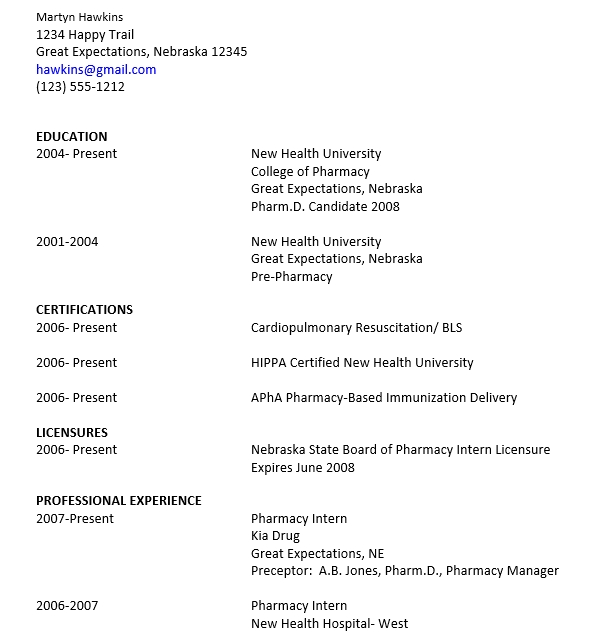 Here, we collect information regarding how to write a good resume for pharmacists or how to choose a good pharmacist resume template to save your time.
Sample of Resume for Pharmacies Fresher
Below is a sample of a pharmacist resume for fresher that you can use as a reference.
Lauren Bellagio
Personal Info
Phone: (555) 123-234-456
Email: laurenbellagio@email.com
Summary
A detailed-oriented with good management skills pharmacy fresher from XYZ National Medical School is seeking a career opportunity at ABC Clinic to utilize my knowledge in medication and expand the experience in providing high-quality customer service and stimulate professional growth in my career. Consistently received straight A in 95% of the coursework during the study and improved 15% of sales during the internship at Healthcare Family Clinic in Pharmacy Department.
Experience
An Internship at Healthcare Family Clinic
2019
Consulting with the patients regarding the medical conditions and regular medications that are consumed
Giving suggestions to patients regarding health problems or medication inquiries
Explaining the medication dosage and side effects to the patients
Keeping the medical records of the patients
Keeping the record of medication purchased
Promoting the products and services of the clinic to patients
Improving 15% of medication product sales within the 6 months
Volunteer Work at Red Cross Event for Flood Victims
2015
Assisting flood victims with medical procedures to get the best treatment
Prescribing medication for flood victims to avoid nausea, exhaustion, and other health problems
Maintaining medication safety for each victim
Checking victim's condition such as blood pressure or any health problem symptoms due to flood
Keeping the records of the patients and the medications given
Maintaining the medication stocks
Educating victims in taking the medicine based on the dosage
Education 
Bachelor of Pharmacy at University of Carolina, 2016 – 2020
PharmD Program – Pharmacy Law at Pharmacy College, 2013 – 2015
GPA: 3.87 (Top 5% of the Program)
Relevant Coursework: Internship at Healthcare Family Clinic for six months, volunteer work at Red Cross Event in helping flood victims at the XXX area, Training on Public Speaking for Pharmacists
Graduation: 2020
Membership: PharmD Students Association, Pharmacy Students of the University of Caroline Alumni, an active member at Pharmacy Research Forum
Key Skills
– Strong communication skills, including non-verbal communication
– Excellent customer service skill
– Management skill
– Organization skill
– Accuracy
– Detailed-oriented
– Excellent understanding of medication knowledge
– Good medical procedures
– Good knowledge of company policies
– Good patient care skill
Achievements and Certifications
North America Pharmacist Licensure Exam
Certificate of Completing PharmD Program
Certificate on Public Speaking for Pharmacists
Language
How to Write a Pharmacist Resume
In writing a pharmacist resume, one needs to specify where they work and what the requirements are needed. So, we collect the information on how to write a good pharmacist resume.
Read the job description carefully. Know what kind of pharmacist the employers search for and the requirements they need
Choose to use either a functional format or a chronological format, or even a mix between them
Tailor the resume specifically to the job you apply for, that goes for the skills, the career objective, and the professional experience
Use pharmacist-related keywords
Avoid any mistakes such as misspelling, wrong punctuation, and capitalization. It doesn't leave a good impression
Certified Ethical Hacker Job Description: The Responsibilities And Requirements That You Should Know 
Skills to Include on a Pharmacy Resume
One thing to remember is you need to only include the relevant skills to the job, in this case, a pharmacist. Below we list several skills that are proven to successfully lead to the job you want.
Good communication skills. You are going to deal with many people so it is a must-have skill
Accuracy and detailed-oriented. Dealing with medication needs a detailed person with high accuracy so that they won't give the wrong medication
Multitasking skill. The pharmacist can deal with several prescriptions at once
Management skills
Excellent knowledge of the medication
Analytical skill
Company policies
Patient care
Kinds of Pharmacist Resume Templates
Let's be honest, sometimes you don't have time to do all the hiring preparations at one. This is when you need to use a resume template. It saves your time, it is editable, and you still can have a professional resume. Here we give several choices that you can choose to suit your needs.
Hospital Pharmacist Resume
If you want to be a pharmacist at the hospital, this resume template helps you in providing information on your strengths in relevant pharmacist skills and a strong career objective.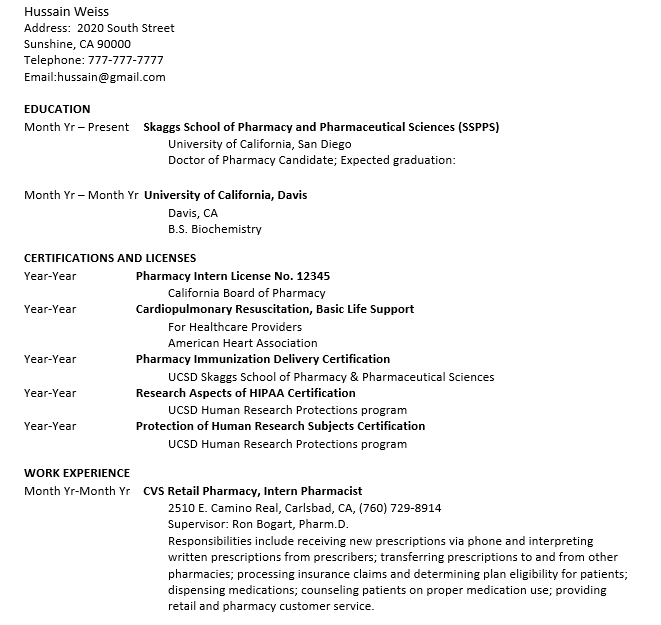 Pharmacy Technician Resume
This resume template is designed for a pharmacy technician that focuses on the safety of the patients. The career summary and work experience are personalized to a pharmacy technician instead of a pharmacist, so it will meet the job requirements.
Retail Pharmacist Resume
This resume template focuses on the retail pharmacist. It is designed in the modern template and well-structured information so it's easy for the employer to find the information.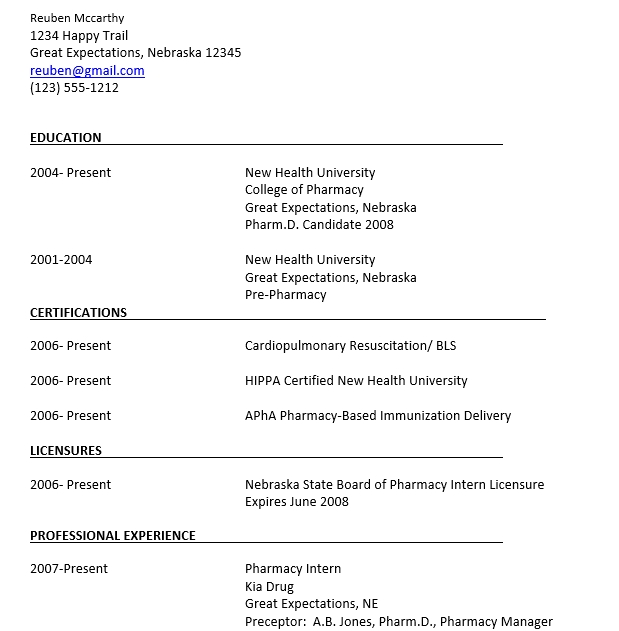 Clinical Pharmacist Resume
Specifically designed for a clinical pharmacist, this resume template allows you to showcase your professional experience and relevant skills. The file is also editable that the users can change slightly to match their needs.
Students Pharmacist Resume Template
When you're still a student and want to apply for an internship, this resume template will lead you to get that chance. Using a functional resume format highlights your skills and achievements during your study as a pharmacist.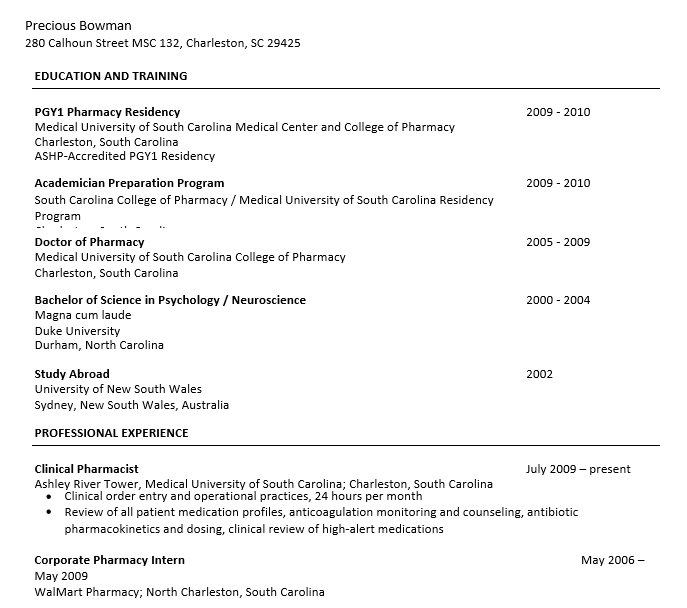 Pharmacist Resume Template in Word
This resume template applies a basic resume format that is written on Ms. Word, so it gives easy access for editing. It can be used for an entry-level position or professionals, which depends on how you will provide the information about yourself.
Pharmacy Graduate Resume
When you have graduated, you can pursue a career by using this resume template. It can be used for those who are experienced after graduation or for those who are inexperienced. Tweak it a little bit and you're ready to go.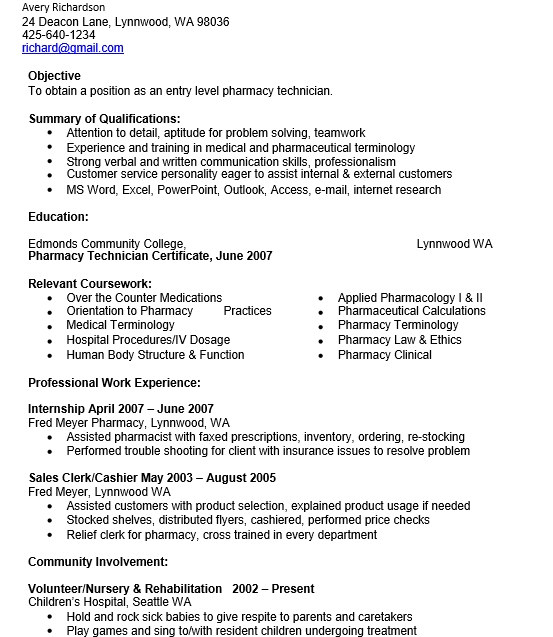 Fresh Graduate Pharmacy Resume
Different from before, this resume template is specifically for fresh graduates. Written in a functional format, it showcases the skills and academic qualifications of the users. It also adds a section of achievements to promote the users better.
Professional Pharmacy Resume
If you have been around the field for a while, this professional pharmacy resume template provides thorough information of your professional experience, a strong career summary, and a list of achievements.
Entry-Level Pharmacist Resume
When you want to apply for an entry-level pharmacy position, you need a resume that effectively highlights your skills and academic background, and has a persuasive career objective. This resume template allows you to have all of that.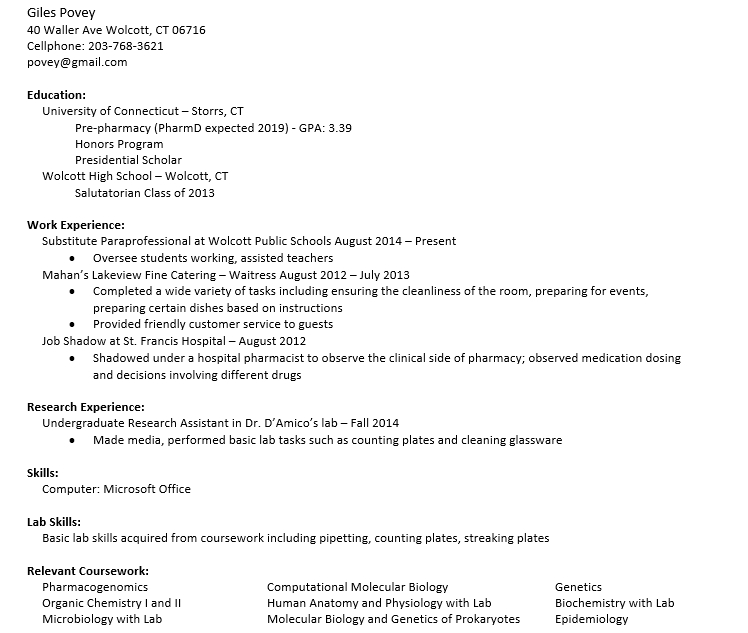 Similar Posts: