Marketing coordinators work as a professional to manage the marketing activities in the company or organization. Their main job is doing research, implementing the campaign, evaluate the trends, and identify the target audience. Read the short explanation about a marketing coordinator job description in this article.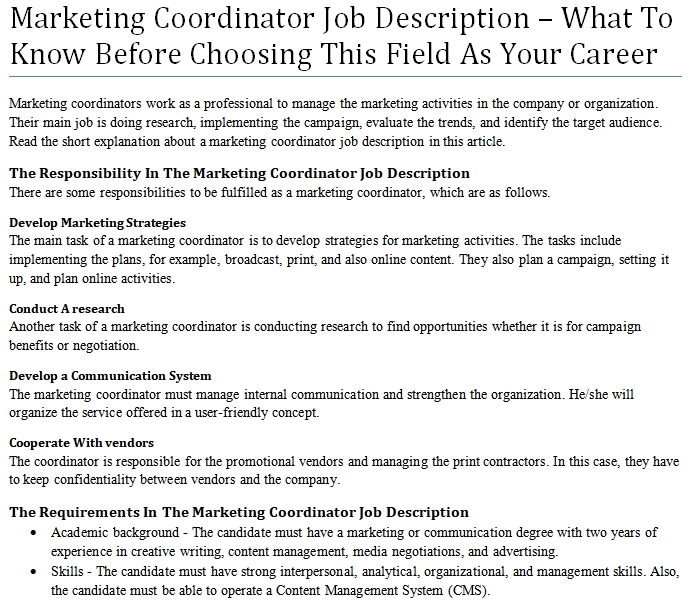 The Responsibility In The Marketing Coordinator Job Description
There are some responsibilities to be fulfilled as a marketing coordinator, which are as follows.
Develop Marketing Strategies
The main task of a marketing coordinator is to develop strategies for marketing activities. The tasks include implementing the plans, for example, broadcast, print, and also online content. They also plan a campaign, setting it up, and plan online activities.
Conduct A research
Another task of a marketing coordinator is conducting research to find opportunities whether it is for campaign benefits or negotiation.
Develop a Communication System
The marketing coordinator must manage internal communication and strengthen the organization. He/she will organize the service offered in a user-friendly concept.
Cooperate With vendors
The coordinator is responsible for the promotional vendors and managing the print contractors. In this case, they have to keep confidentiality between vendors and the company.
The Requirements In The Marketing Coordinator Job Description
Academic background – The candidate must have a marketing or communication degree with two years of experience in creative writing, content management, media negotiations, and advertising.
Skills – The candidate must have strong interpersonal, analytical, organizational, and management skills. Also, the candidate must be able to operate a Content Management System (CMS).
It is important for the candidate to have a strong knowledge of online marketing because this field now is very promising. People move to online activities more and it is the best solution to be implemented today. The experience in handling social media, websites, and various types of campaigns is crucial. This will be beneficial too in doing budgeting as this is now becoming the new trend in marketing. More people are leaving the conventional advertising or at least reduce it because online marketing is way more effective.
FAQs:
What Is The General Responsibility Of A marketing coordinator?
A marketing coordinator is expected to develop innovative strategies in the effort of improving sales. The roles include doing research and manage marketing activities.
How To Become A Successful Marketing coordinator?
to become a successful marketing coordinator, there are certain skills and requirements you must have. This includes your love for details, solid understanding of marketing strategies, your ability to read the trend, and your problem-solving skills.
What Are The The Prominent Tasks of A Marketing coordinator?
Generally, the tasks of a marketing coordinator are doing research, reading the trend, manage the marketing activities, and many more.
There are so many things to prepare when you decide to pick this position as your career. Note that experience is very crucial to be successful in this field. If you still don't have any experience, that will be awesome if you spend some time to gain your portfolio. We expect our summary of the marketing coordinator job description can help you leverage your career.
Similar Posts: