A district manager is a person who has responsibilities to act as a liaison between headquarter & the branches of area, be in charge of operational practice, and coordinate with, report & make recommendations to the senior management. In this article, we will discuss further about the district manager job description.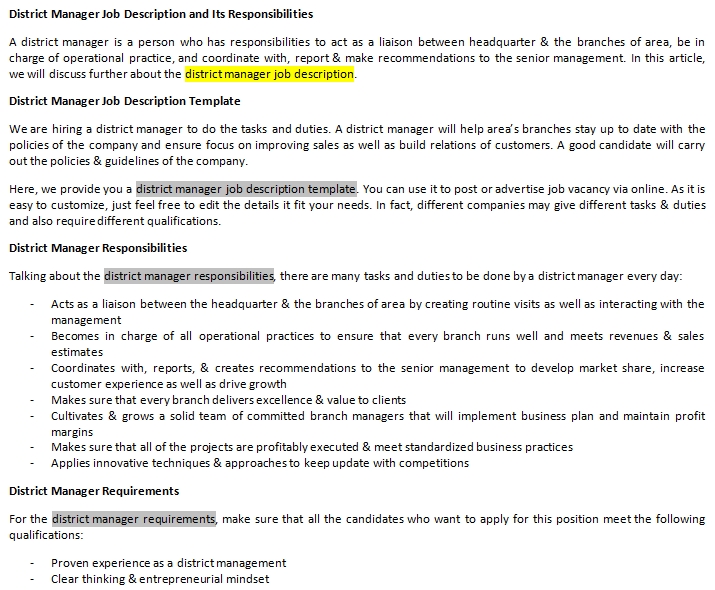 District Manager Job Description Template
We are hiring a district manager to do the tasks and duties. A district manager will help area's branches stay up to date with the policies of the company and ensure focus on improving sales as well as build relations of customers. A good candidate will carry out the policies & guidelines of the company.
Here, we provide you a district manager job description template. You can use it to post or advertise job vacancy via online. As it is easy to customize, just feel free to edit the details it fit your needs. In fact, different companies may give different tasks & duties and also require different qualifications.
District Manager Responsibilities
Talking about the district manager responsibilities, there are many tasks and duties to be done by a district manager every day:
Acts as a liaison between the headquarter & the branches of area by creating routine visits as well as interacting with the management
Becomes in charge of all operational practices to ensure that every branch runs well and meets revenues & sales estimates
Coordinates with, reports, & creates recommendations to the senior management to develop market share, increase customer experience as well as drive growth
Makes sure that every branch delivers excellence & value to clients
Cultivates & grows a solid team of committed branch managers that will implement business plan and maintain profit margins
Makes sure that all of the projects are profitably executed & meet standardized business practices
Applies innovative techniques & approaches to keep update with competitions
District Manager Requirements
For the district manager requirements, make sure that all the candidates who want to apply for this position meet the following qualifications:
Proven experience as a district management
Clear thinking & entrepreneurial mindset
Knowledge of business development & strategy implementation
Great skills of leadership & decision making
Ability of selling, managing, and driving growth
Excellent skills of customer relationship management
BS/MA in business administration
District Management FAQs
What does a district management job description do in a company?
The main district management duties are to act as a liaison between headquarters & the branches of area, be in charge of operational practice, and coordinate with, report & make recommendations to the senior management.
Can I edit the posted district management job description here?
Yes, you can. You are allowed to add or remove the details of responsibilities and requirements included in the template to fit your needs.
Do you have interview questions for a district management?
Besides the district management job description, this web also provides a collection of interview questions you can use in testing the candidates.
Similar Posts: