Teacher Assistant Resume Template
Opportunities always exist around you. College, for instance, you will uncover many opportunities around college, whether it is professional-level jobs or entry-level jobs. Let us take an example in applying for a teacher assistant job. To win these challenging opportunities, you will need an ultimate teacher assistant resume template to draw on your information to the resume concisely.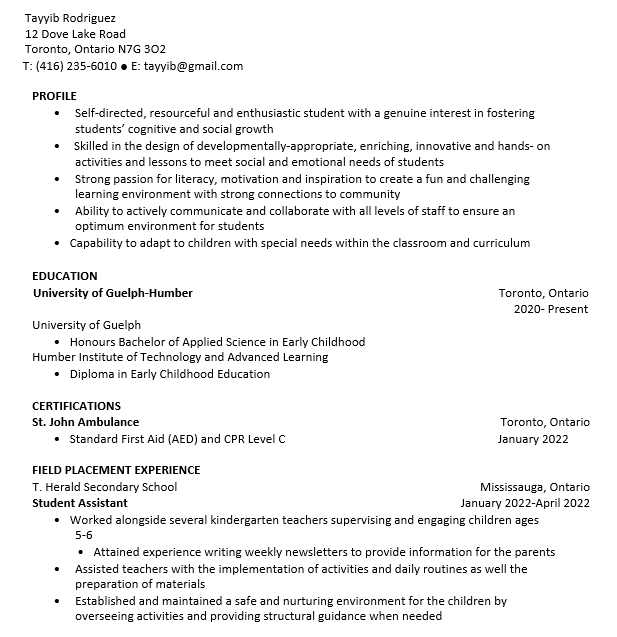 Writing a resume for a teacher assistant, especially a college teacher assistant will require different specifications than the school and tutoring agency teacher assistant. To grab this chance, it is recommended for you to get inspired with a college teacher assistant resume.
Teacher Assistant Resume Template Sample
Equip yourself with compelling insight and reference on teacher assistant resume with the following sample:
Personal Info
Dysta Rozogevich
Phone  : (959)734-645-249-8
Email   : DR.dystarozogevich@gmail.com
Summary
Flexible and creative English student seeking an opportunity to be an English for Yong Learners teacher assistant at Raspberry University. I believe, I would be a decent candidate since I possess IT skills in Office apps, and several online e-learning apps and confident to work with children.
Experience
Freelance English For Young Learners Teacher Assistant
2020
Assisted in planning, and preparing lessons to study.
Assisted students to improve their language skills through direct activity
Assisted the teacher in preparing assessments
Assisted in checking and giving scores to the students' work.
Education
Cranberry University of Education
English Education and Teacher Training
2017-present
GPA: 3.6
Relevant Coursework: Developing blended method teaching media and lesson plan for teaching English to Young Learners
Expected Graduation: 2021
Membership: Member of Teaching English for Kids Tutoring Community
Key Skills:
Flexible and creative
Patience
Good sense of humor
Enjoy working with children
Exquisite organizational skills
IT skills (Office apps, e-learning apps such as Edmodo, Schoology, google classroom)
Decent literacy and numeracy skills
Awards:
Teaching English for Young Learners in Teaching English for Kids Tutoring Community
Teaching English for Young Learners opportunity while doing freelance job in Cranberry University of Education
Language:
How to Write Teacher Assistant Resume Template
The steps provided below should be taken into account when you want to write a teacher assistant resume.
Supply the clearest personal information about you
Add and emphasize your relevant education and certifications
Describe what kind of job you expect in the college
Append the relevant accomplishments and/or achievements you ever got
Convey the unique ability and technical proficiency (such as e-learning, tools, etc.)
Review and proofread the resume you have written to make sure it is error-free
What skills do you need in order to be a Teacher Assistant
Below mentioned skills are the skills that are mostly required in order to grab the opportunity for being a teacher assistant.
Able to maintain a decent working relationship with both students and parents
Flexibility and creativity
Good and exquisite organizational skills
Good awareness of literacy and numeracy skills
Able to handle a group of students
Patience and a good sense of humor
Enjoy working with children
IT application and/or software solutions proficiency
Can you Become A Teacher Assistant Without Qualifications?
To be a teacher assistant you must not have certain qualifications. That is good news since you can utilize this chance to get your related and relevant entry-level experience to be a professional teacher assistant. Mostly, the employer will train the new recruits with the on the job training. However, the below requirements should be met by them.
Literacy and Numeracy capabilities.
Decent educational groundings and foundation
A positive approach to work with children
Why Should We Hire You As Our Teacher Assistant
The following consideration could be the answer for you regarding your resume of teacher assistant motivation when you are asked to answer the interviewer's questions.
Playing a direct and practical role within children's progress
Genuine interests in working and helping develop children's full potential
Helped children to achieve their confidence and skill mastery
A profound contribution made in tackling challenges in the classroom
Creating a productive and fun learning environment
The sense of fulfillment in witnessing the positive outcomes
What should be Described Within Teacher Assistant Resume
The following key responsibilities are important to be described within your teacher assistant resume to make it concise and load sufficient supporting information about you.
Creating teaching materials
Organizing learning materials
Oversee students
Joining meetings
Updating students' attendance records
Kinds of Teacher Assistant Resume Template
There are many different kinds of teacher assistant resume templates according to the conditions and situation. Choose the best-matched resume that is relevant to your condition to make it smooth your way to succeed in the hiring process.
Free Teacher Assistant Resume Template
Employing decent visually presented information and an eye-friendly section layout, this template should be the best choice for you. Put a relevant modification within the information field to make it more relevant to you.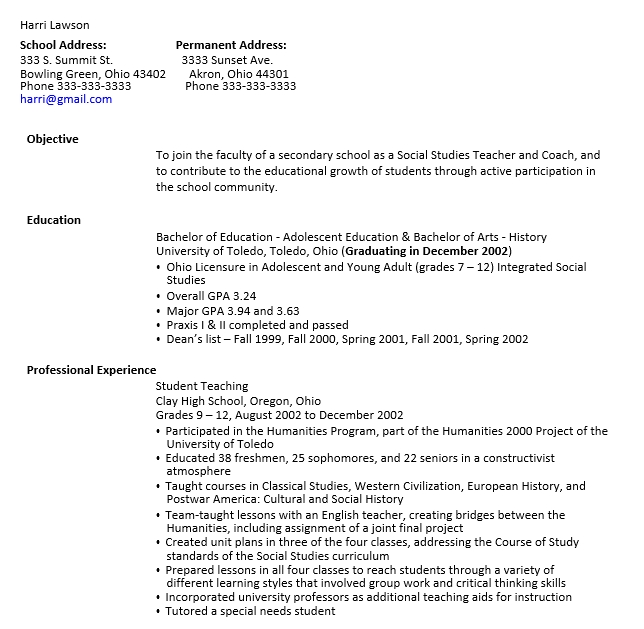 Assistant Teacher With No Experience
This template should be the perfect fit for those who want to be teacher assistants without experience. The templates put highlights on relevant skills and previous activity that support your stance against the employer.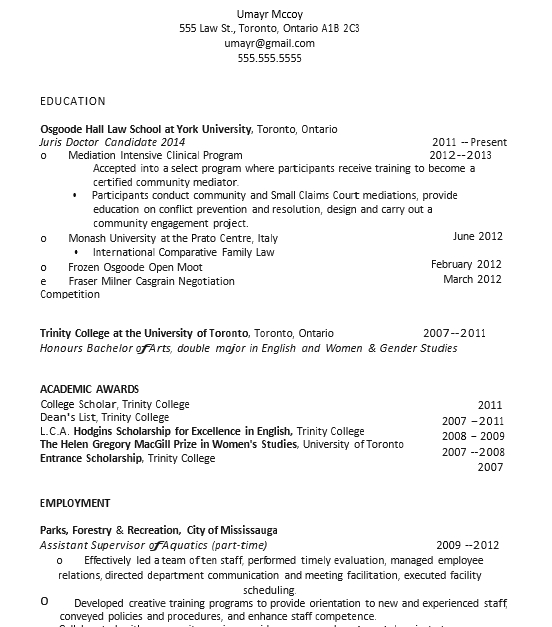 Preschool Assistant Teacher Resume Template
The environment of your expected job could inspire you to determine what kinds of templates you are going to use. The following template is best to be picked since it has a minimalist style and provides a great highlight to showcase your skills.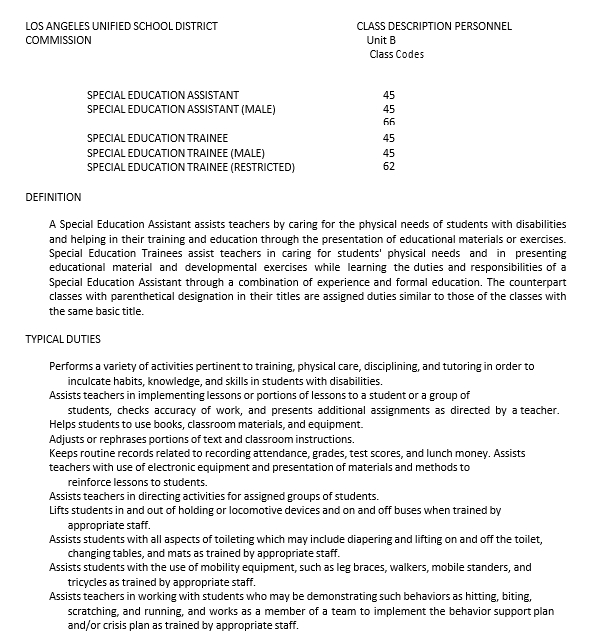 Sample Education Assistant Resume Template
Back to classic is never been so boring. This resume should match your selection when the employer expects you to submit classic resume layout with minimal visual information presentation.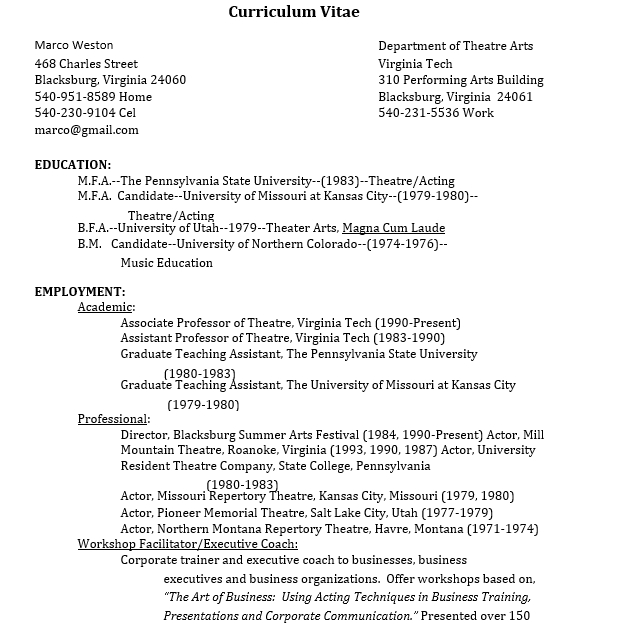 Assistant Teacher Resume Sample
Emphasizing bullet points, this resume sample should be the preferred way to present your critical information. It could be leveraged for those who want to create a resume with the  strong relevant information within their resume.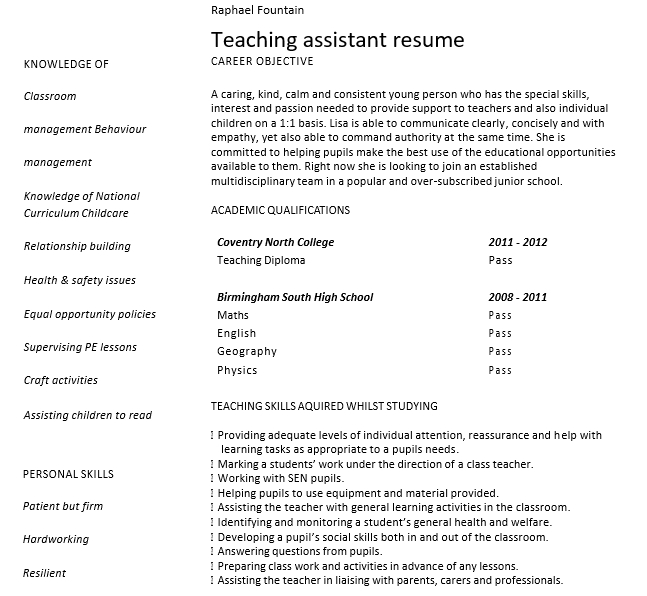 Special Education Assistant Resume Template
Simple yet concise. The best word to this efficient space and emphasizing the appropriate sectioning on the resume together with the minimalist layout.
Daycare Teacher Assistant Resume Template
This resume template employs perfect alignment and layout to your information. Use this sample to present your information professionally.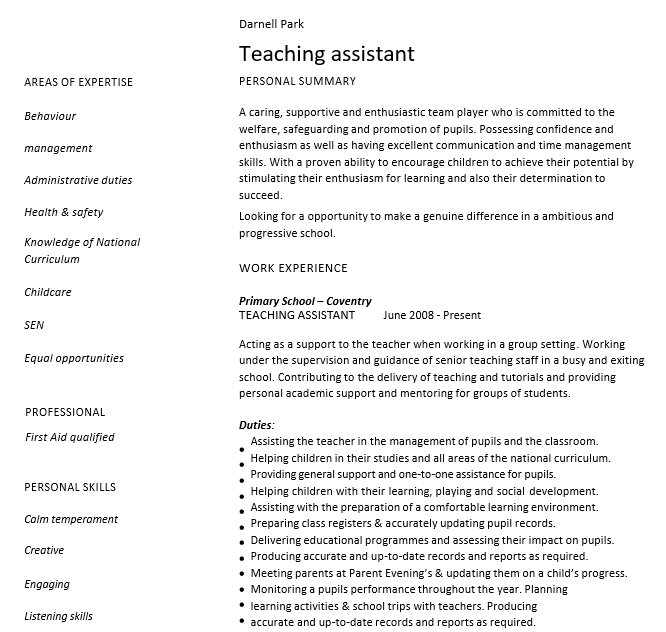 Child Care Teacher Assistant Resume Template
Inspired by the professional layout, this child care teacher assistant resume put sufficient bulleting to make your information covered and put special emphasis on them.
Volunteer Teacher Assistant Resume Template
Utilizing line breaks to separate the section, this resume template would be perfect for you. It highlights your required information in an appropriate way and a friendly visual layout.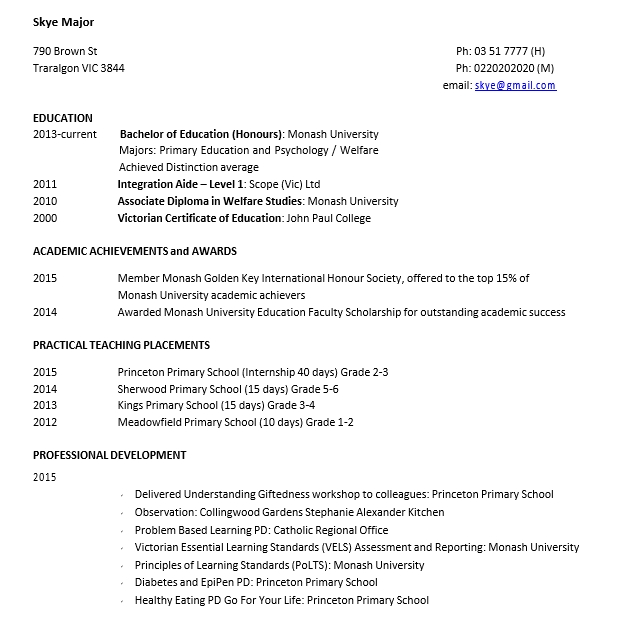 Art Teacher Assistant Resume Sample
Comprises of the fine layout of the personal information and background fields, this teacher assistant resume should make a perfect fit for your needs. Use this sample to showcase your experience and key skills.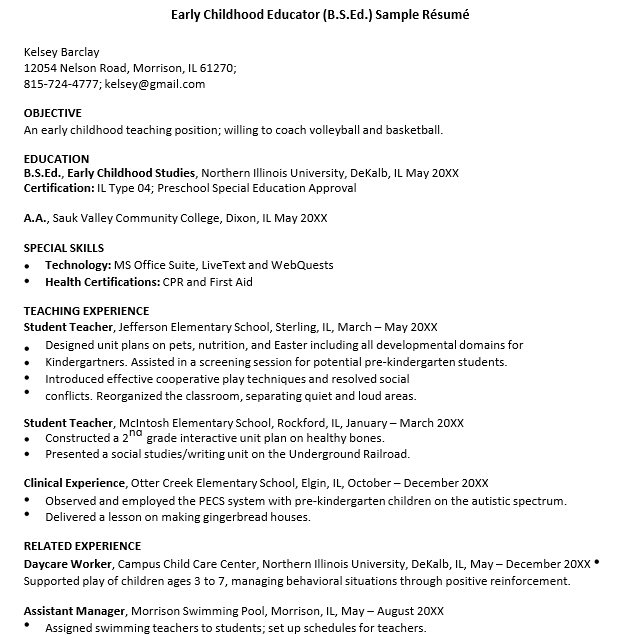 Teacher Assistant Resume Template Sample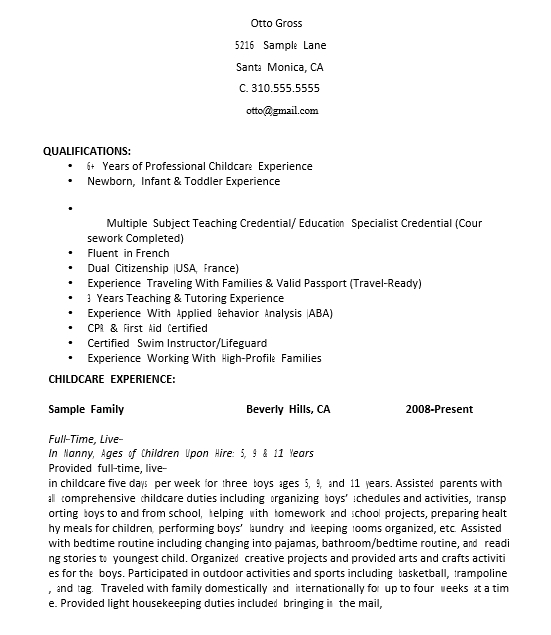 Similar Posts: